Visa Requirements
Informations relatives aux visas
Reminder: You should apply for a visa in good time, in case of any delays during processing.
Rappel : Si vous avez besoin d'un visa, pensez à le demander suffisamment à l'avance pour éviter les problèmes de délais.
If you require a visa invitation or confirmation letter, please email us at info@easyconferences.eu.
Si vous avez besoin d'une lettre d'invitation ou de confirmation d'inscription pour votre demande de visa, vous pouvez envoyer un courriel à info@easyconferences.eu.
Important note for travelers
As Cyprus is a candidate country bound to join the Schengen Area, Residents of non-EU countries who hold valid multiple-entry Schengen visas must first pass through a full Schengen member territory in order to utilize the visa in Cyprus. The Schengen Visa holder is allowed to travel to Cyprus directly from a Schengen member country without applying for a National Cypriot visa and stay in the Republic of Cyprus for the duration of their Schengen visa.
The above arrangements do not apply for persons holding a Turkish or Azerbaijani passport. If you are affected, please visit the Cyprus Ministry of Foreign Affairs website on how to apply for a Cyprus Visa.
For further information, please check the European Commission website regarding Schengen Visas.
Information importante pour les Voyageurs
Comme Chypre est un pays candidat à l'entrée dans la zone Schengen, ceux qui résident dans un pays extra-européen et possèdent déjà un visa Schengen à entrées multiples doivent obligatoirement passer par un pays membre de la zone Schengen pour bénéficier de ce visa à l'entrée à Chypre. Le détenteur d'un visa Schengen peut entrer à Chypre directement depuis un pays de la zone Schengen, sans demander de visa particulier et il peut voyager et rester à Chypre pendant la durée de son visa Schengen.

Ces dispositions ne s'appliquent pas aux détenteurs d'un passeport de Turquie ou d'Azerbaïjan : ils doivent consulter le site Cyprus Ministry of Foreign Affairs website pour savoir comment demander un visa pour Chypre.

Pour plus d'informations, prière de consulter le site European Commission website à propos des visas Schengen.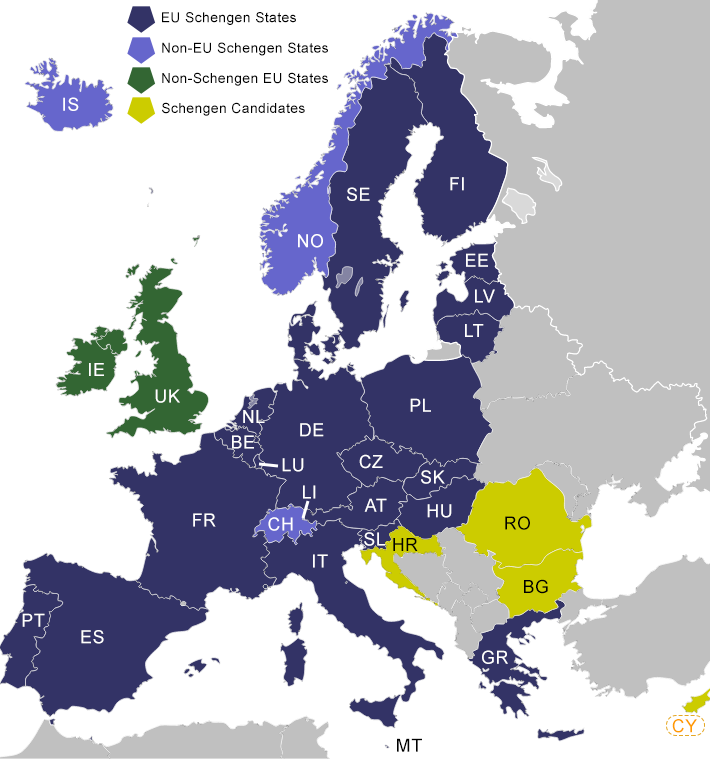 Schengen Area as of 1/7/2013
Where Visas are being issued
Visas will be issued by all the Diplomatic Missions (Embassies and General Consulates) of the Republic of Cyprus, and by all the Honorary Consulates of the Republic of Cyprus abroad in their respective countries. Additionally visas can also be issued by the British High Commissions / Embassies in the following countries:
ARGENTINE REPUBLIC, BAHREIN, HONG KONG, JAPAN, JORDAN, KAZAKHSTAN, KUWAIT, OMAN, SWITZERLAND, SUDAN, UNITED ARAB EMIRATES (ABU DHABI, DUBAI) and UZBEKISTAN.
For the latest information please visit the Ministry of Foreign Affairs website.
Lieu de délivrance des visas
Les visas sont délivrés par les missions diplomatiques (ambassades, consulats généraux) de la République de Chypre (Diplomatic Missions), et par tous les Consulats honoraires (Honorary Consulates) de la République de Chypre au sein de leurs pays respectifs.
De plus, les visas peuvent aussi être délivrés par le British High Commissions / Embassies dans les pays suivants :

REPUBLIQUE d'ARGENTINE, BAHREIN, HONG KONG, JAPON, JORDANIE, KAZAKHSTAN, KOWEIT, OMAN, SUISSE, SOUDAN, EMIRANTS ARABES UNIS (ABOU DHABI, DUBAI) and OUZBEKISTAN.

Pour des informations à jour, consulter le site Ministry of Foreign Affairs
In collaboration with and under the auspices of