Travel Info
Book your flights to the 7th International Symposium on Sheep, Goat and other non-Cow Milk (IDF 2015) online at www.austrian.com and save 15% on all applicable fares!
To do so, simply enter the following code in the eVoucher field on the Austrian homepage booking engine, or click here to have it pre-filled:

Code: IDF15

Conditions:
• Booking period: now until March 25th, 2015
• Valid for flights to Vienna and return as of March 16th, 2015 until April 1st, 2015 (final date for return flight) on OS operated flights.
Important note for travelers
As Cyprus is a candidate country bound to join the Schengen Area, Residents of non-EU countries who hold valid multiple-entry Schengen visas must first pass through a full Schengen member territory in order to utilize the visa in Cyprus. The Schengen Visa holder is allowed to travel to Cyprus directly from a Schengen member country without applying for a National Cypriot visa and stay in the Republic of Cyprus for the duration of their Schengen visa.
The above arrangements do not apply for persons holding a Turkish or Azerbaijani passport. If you are affected, please visit the Cyprus Ministry of Foreign Affairs website on how to apply for a Cyprus Visa.
For further information, please check the European Commission website regarding Schengen Visas.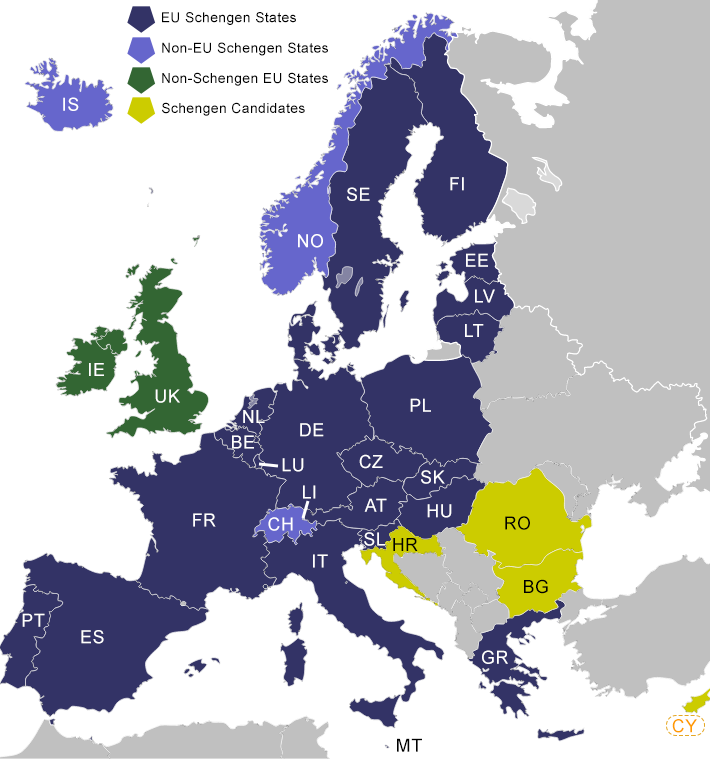 Schengen Area as of 1/7/2013
Where Visas are being issued
Visas will be issued by all the Diplomatic Missions (Embassies and General Consulates) of the Republic of Cyprus, and by all the Honorary Consulates of the Republic of Cyprus abroad in their respective countries. Additionally visas can also be issued by the British High Commissions / Embassies in the following countries:
ARGENTINE REPUBLIC, BAHREIN, HONG KONG, JAPAN, JORDAN, KAZAKHSTAN, KUWAIT, OMAN, SWITZERLAND, SUDAN, UNITED ARAB EMIRATES (ABU DHABI, DUBAI) and UZBEKISTAN.
The above information is based on information provided by the Ministry of Foreign Affairs.
---
Invitation Letters
Invitation letters for visa purposes will be issued only to participants that have completed their registration and fully paid the fees. In case you require an invitation letter, please send us an email at info@easyconferences.org.
Cyprus has two (2) airports:
The Larnaca International Airport, which is located about 5km (3 miles) from Larnaca and 142 km (88 miles) from Paphos.
For more information, maps and flight schedules please visit the Cyprus Airports Official Website (Larnaca)
The Paphos International Airport, which is located about 15km (9 miles) from Paphos and 142 km (88 miles) from Larnaca.
For more information, maps and flight schedules please visit the Cyprus Airports Official Website (Paphos)
Click here to view the Location Map
Airport Transfers
Please note that participants have the following options for their transfers from /to the airport:
Private taxi Transfers
Arrange for transfers by taxi through the conference coordinator, EasyConferences. These transfers are bookable online through www.easyconferences.org . These transfers can be private (max 3 persons) or shared, are inclusive of meet and assist, and the service is quaranteed.
Airport Taxis
Get an airport taxi on arrival to the airport. Service is quite good, but at times one may have to wait and prices may vary depending on the time of arrival.
Car rentals
Participants may opt to hire a car during their stay, and thus use it for their airport transfers. Cars may be reserved through the conference coordinator, EasyConferences at special conference rates and are bookable online through www.easyconferences.org.
Public Transportation
Please note that Cyprus has a comprehensive public bus network, with extensive inner-city routes and also major city and airport connections. You can find more information at Cyprusbybus.com. If you require specific information, please click here and select your desired city.
The voltage on the island is 240 Socket outlets are of flat 3 pin-type.
English is the second language and is widely spoken. A greater Knowledge of French and German is increasingly noticeable.
The currency of the Republic is the Euro.
Banks in Cyprus open for the, public from 08:30 to 13:30 midday. Certain banks in tourist areas open during the afternoon.
All types of medication are available in well stocked pharmacies all over Cyprus.
Telephone : Cyprus automatic telephone dialing system reaches 206 countries. Telecards can be purchased from Post Offices, kiosks and souvenir shops.
There are two international airports in Cyprus, at Larnaca and Pafos.
The two main ports are in Lemesos and Larnaca.
Around 30 airlines connect Cyprus directly with most European and Middle-East countries, which provide ongoing services to anywhere in the world.
As from May 2004 Cyprus is a full member of the European Community.